Neighborhood Patrol Security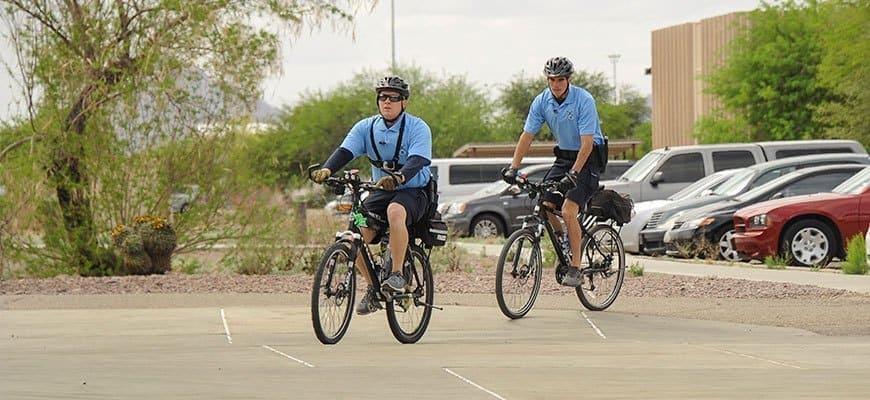 We provide neighborhood patrol for our customers with the best possible service and professionally-trained standing security patrol officers.
Our security patrol program includes the following strict program adherences:
Written program orders and procedures that are customized to each residence or neighborhood's unique needs to ensure a safe and structured security in our neighborhood patrol program.
Coordinated and pre-planned "check-ins" from our uniformed security specialists to our central command headquarters.
Two forms of communication methods for each uniformed patrol specialist.
Random patrols are designed to deter crime. Through this service, we will randomly patrol your residence or neighborhood with a Security Guard in a Marked Security Vehicle day and/or night. Our visible presence on your property will send potential criminals a message that your property is protected. In conclusion, this greatly reduces the chances of your home or neighborhood being targeted by criminals.
Dedicated to protecting your community
Central Protection has designed a service to provide a peace of mind to residents, businesses and visitors – 24 hours a day, 7 days a week. Our friendly uniformed security officers are licensed, insured, and trained professionals dedicated to protecting your neighborhood while performing a wide range of services like Aviation Security, and residential security services – patrolling every street, cul-de-sac, parking lot, and business in your community. However, The presence of a Central Protection security officer provides a substantial deterrent to criminal behavior by assuring your neighborhood with a look and feel of safety and security. 
Community leaders, residents and businesses benefit, by having our security officers patrol in high-profile vehicles. This helps prevent loitering, trespassing, vandalism, theft and any other disorderly conduct.
Immediate Response
Security officers are in the neighborhood at all times, are visible, and can provide immediate response and assistance. Meanwhile, They can call the police if it is necessary.
Accountability
Central Protection will supply activity reports and use electronic remote devices to track our guards' presence and patrol activity.
Cost
Private security will cost approximately half that of police officers and thus 24 hour security could be provided.
Direct Communications
Residents and businesses will have access to daily activity reports and any security incidents that may have occurred. Further, direct access to the patrol officer's cell phone will be available to report possible suspicious persons/vehicles or loiterers without waiting for the police, who rate this as a low-priority call.
Vacation Checks
Residents have the option to notify Central Protection of any travel plans. Our security officers will physically check the exterior of your home when you will not present at your home.
Alarm Response
Residents and businesses have the option to list Central Protection as the first responder by simply contacting their alarm companies and enabling this feature. We will ensure premise(s) are secure. If there is a need our security officer will stand by until the resident returns.
Safe-Walk Service
During patrol hours, patrol officers may be available to accompany you within the neighborhood boundaries — while walking a loved one, a pet, or walking to or from a neighbor's home
Warning Decals
In addition, As an extra measure of security, we will provide security decals for your lawn, doors, windows, outbuildings, or any other areas you deem necessary.
Community Involvement
Above all, Our management and security officers are available to attend community meetings, and neighborhood watch meetings, this will provide answers to questions about our services/security and help establish a good rapport with residents and business owners.

24 Hour Emergency Response