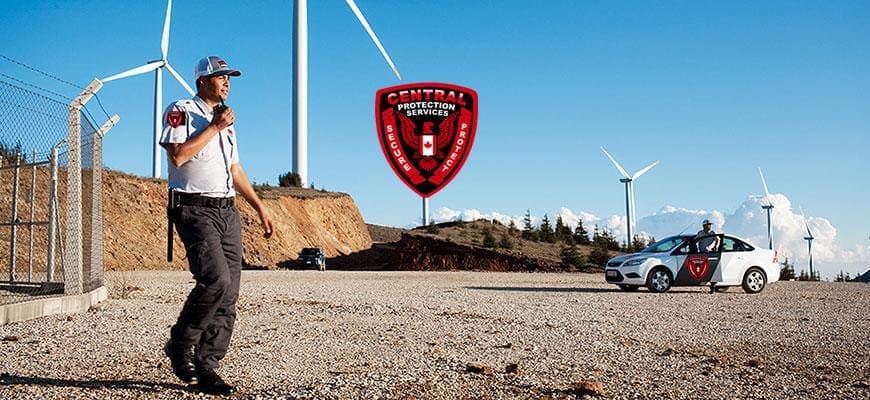 Oil and Gas Security Guard Services in Edmonton
Oil and Gas resources are a vital part of Canada's economy. The oil and gas industry needs to look for various security concerns including fire watch security, loss prevention, and Oil And Gas Security. This sector is flourishing at a faster pace to offer oil and gas to the people of Canada. Central Protection services have trained and expert security guards that can handle the manual supervision of the field while technological gadgets & latest surveillance systems add more to the security. We have been serving the Oil and Gas industry for quite a few years now. 
Safeguard Oil and Gas resources with Central Protection services 
Our expert security guards are well-prepared for emergency situations and know how to respond instantly in unprecedented situations. We are among the leading security company that has certified and trusted solutions for this field. Our services are accredited by Canada's official security agencies. 
Get the Right Supervision of Oil and Gas regions with us 
For getting the right oil and gas pipeline security companies to need a proper security system that must be integrated with specialized security solutions. Central Protection Services offer you gas field security and oil field security with years of expertise. Moreover, we help the oil and gas industry with extensively sensitive surveillance systems for catering to all kinds of security concerns. Combating the political and environmental concerns with great problem-solving strategies to offer a strong, customized, and fully-proofed security plan. We have trained staff for manual guarding and experts for handling data-oriented security solutions. 
Get the optimal features of oil and gas security with Central Protection Services
Selecting the right security companion for your oil and gas industry is a bit challenging as this needs sensitive areas to cover. Moreover, oil and gas regions are highly-priced; theft prevention is also important. The concerns and problems can be best dealt with by a security company with prior experience and highly-competent staff and guards. Central Protection Services offer you Optimal features and reasons to select us for your next security plan. Our services include:
Long and short-term security guards
Monitoring the performances for employing long and short-term security guards for avoiding unpleasant happenings of theft support. Scheduling and planning shifts for oil and gas cyber security. We have loyal security guards with background and criminal history checked and assured. Our team is committed to performing excellent security services. 
Mobile Patrolling 
Mobile patrolling is a vital part of oil field security and gas field security because covering a larger region might leave some space for surveillance or we can say that people find out the way deceive. Mobile patrolling offers the inspection of the region for any unpleasant activity and theft prevention. We at Central Protection Services offer you mobile patrolling with patrol vehicles, alarm systems, inside & outside security systems, specific region patrols, and parking slot inspections to avoid any unwanted circumstances. We are among the leading and fastest security companies offering the best services with technological-driven security solutions with intellectual manpower. 
Fire Watch security for the Oil and Gas Industry
Central Protection Services offers you the best and instant responsive staff for fire watch security of your oil and gas regions. These regions are highly prone to catch fire being highly inflammable material. Any leakage or minute fire if detected at an early stage can help to avoid destruction on a larger scale. We plan and install the alarming system and fire extinguishers in the right places and plan for escape with highly trained staff and guards. 
Proper Surveillance with the latest security systems
Central Protection services offer you advanced technological security and surveillance system that can cover your region with CCTV cameras, access control, proximity readers, fire alarm system, and motion detectors. We help you get the intrusion systems for door automation and door contact scanning. 
We offer you an alarm system for a 24/7 stand-by system to give a clear indication of even a minute of unwanted movement. We offer you a highly encrypted monitoring system to assure zero fraud. Our integrated system helps in the early detection and prevention of emergency situations. Get the alarm monitoring services at Central Protection services and minimize damage and loss for carefully protected oil and gas industry region. 
Secure your Oil and Gas industrial regions
The major issue in handling the oil and gas pipeline security is supervising and monitoring the remote locations of the region. Anything went unnoticed can result in great destruction. We at Central Protection Services offer you the most unique and practical solution to your security concerns. We provide you manpower as well-trained guards and full-proofed system integration for a powerful security solution related to the oil and gas industry. 
Our services include asset protection, asset transport, and preventing asset theft with a unique solution to your security needs. Get the consultation and explore all we have for you related to your asset management.
Get the Specialized services at Central Protection Services
If you are looking for reliable and advanced security solutions for your oil field security or gas field security; Central Protection Services has all the latest technology and well-trained guard staff for dealing with emergency and panic situations. Our services include:
Armed and Unarmed security guards with intellectual learning to deal with different haphazard situations.

 Instant response to emergency situations and providing escape, first aid as well as medical services. 

Mobile patrolling and surveillance for remote locations and parking slots coverage.

Inflammable item trailers inspection before leaving the oil and gas fields for smooth transport. 

Strict fire watch security to avoid large destruction on the fields.

Strict staff evaluation for regular checks against violations or theft.

Multi-disciplinary approach to handling panic situations in an immensely professional way. 
Oil And Gas Security Companies
Oil and Gas reservoirs are the most vulnerable items. The Oil and Gas security in Calgary is important as this industry is essential for the growth of the economy. Central Protection Services is among the leading security companies in Alberta Wide offering services to various Oil and Gas companies for reliable and dependable solutions. Our oil and gas security Fort Mcmurray helps you with security guards and advanced detection & alarming units installed and supervised by experts. These latest alarming systems give you early detection of leakage, fire outbreak, and other issues. We offer this Security in Edmonton, Calgary, Fort Mcmurray, Airdrie, Cochrane, and Alberta Wide.

24 Hour Emergency Response