Have you ever wondered about a large building structure and its complexities involved? Or have you thought that how many people are living together in such a calm & contented environment? Certainly yes!!! The big high-rise buildings nowadays give you a breathtaking view but do you know there is a continuous effort to manage and maintain things in an extraordinary manner? Residential construction site security is an important aspect of maintaining the building and apartment security during construction in an efficient way. Construction site security companies offer you guards and other security & surveillance facilities for all kinds of commercial as well as residential sector construction sites.
What is a Construction Site?
Any building, area, or place that is under the process of building up with materials & belongings all around is referred to as a construction site. It doesn't bother whether a commercial or residential building is constructed. At the construction site, there is much costly equipment present that needs to be protected. Construction companies offer a full-proof arrangement at the site to look after equipment and machinery present during the whole construction period. A construction security guard makes sure that the place is safe and secure. Mostly construction site security guards are demanded to have enhanced protection of the commercial and the residential site by the contractors & owners to secure their dream building.
Commercial and residential construction site security is a necessity of the current times. Make your construction site secure and safe by hiring the best construction site security companies like Central Protection Services. These construction site security companies will offer you the best construction site security guards & IT experts to make a secured premise that is up to satisfaction. The right security company will provide Construction Site Security Guards who are courteous, highly trained, experienced, and responsible. Make your place more secure and safe with the best construction site security companies & get relief from stress.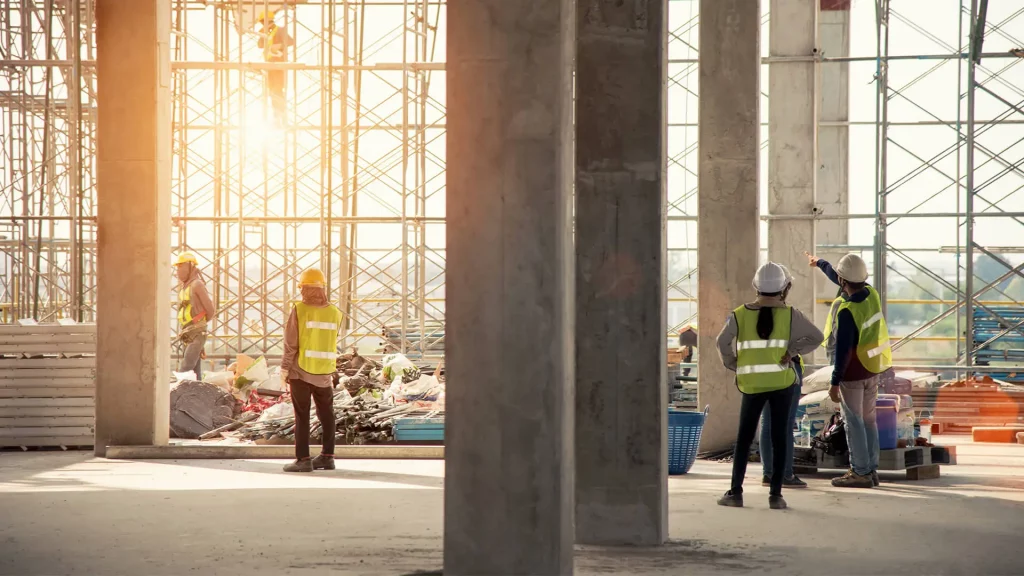 20 Ideas to Improve your Construction Site Security
Security companies will create the most effective and perfect security procedures that will be tailored according to the respective needs and requirements. These security trials are uniquely designed to capitalize on the efficiency and value of your security plans and are personalized uniquely for particular construction sites. Here is a long list of ideas that can help in improving the construction site security in an immense manner:
Use badges or identification Tags
Badges and identification tags & stickers can be used to speedily identify authorized personnel visually on the construction site. This will certainly make it stress-free to manage the right person's induction for a safer onsite.
Access Control & Scanning
The first and foremost thing that can help to secure the construction site security is the management of whose coming in and going out of the premises. This can be done with biometrics and scanning so that every person on the construction site will be accountable for the in and out. The individuals are supposed to check in and check out with the biometrics at the start & end of the shifts. Construction site security guards will supervise the pattern and check on the movement. This will help make the site secure.
Protect the premises
Another thing is to ensure the site premises with 2m high fencing to avert entree to children. Cover the gaps underneath and ground to fill them up till the specified height to avoid any accidental issues.
Signage Display
Covering the premises with fences is not enough to caution people about dangers. There is an additional thing that will block the barrier and that is the proper signage display of construction site dangers. If not displayed, there might be a movement & chances of accidents. Make sure you noticeably display danger and cautionary signs around the boundary.
Safe and Observe entrances
To make sure that no unauthorized personnel is entering the site by safeguarding and monitoring entry points. Surveillance and observation of the construction site security guards make it difficult for unauthorized people to gain access.
Clarify security procedures
There must be clarity that authorized persons are fully welcomed and recognize the site security controls and procedures. In case of emergencies, if gates need to be kept sealed, or fences need to remain intact everyone should be aware of it to avoid inconvenience. Construction Site Companies keep security trials enforced throughout the construction project.
Manage visitors
Construction site security guards ensure visitors are managed & monitored at all times on site. There is no allowance for unauthorized people, however, visitors will be registered. This is to certify the hazards or security to be fully proven.
Ask questions
Construction site security guards have the responsibility to ask unauthorized persons their reason for visiting. There might be individuals like an employee of the architect, a driver looking for the site office, or a client's friend. The suspected persons might be asked about their reason for the visit and the concerned person to meet up. The construction site security guard can check with the concerned person for confirmation.
Lock things up
Lock the equipment & assets and restrict access to gates after working hours and make sure that any time the site is not left unoccupied. Construction site security companies have experts to manage the locking & unlocking of the main gates for a secure location.
Shut down
There might be times when the construction site project has to be shut down for a certain period of time. CCTV surveillance and security patrols will work for that period. Construction site security companies have fully trained personnel to manage the site's overall security.
Extra defenses
Take extra defenses if the construction site is located in a populated area or close to communities. There will be a need for extra cautious steps when near a populated buildings such as schools, or hospitals to separate the works area from the neighboring land uses.
Eliminate access equipment
Eliminate access ladders from scaffolds and excavations. Ladders can provide unauthorized people and children with a thrilling challenge to access areas. It is always better to remove the tempting equipment out of reach.
Immobilize
Immobilize all vehicles when out of use and never leave keys with equipment warehouse, vehicles, and mobile plant.
Obstruction off
Obstruction off or cover digs, pits, and edges when the construction site is out of use. Falling into dugouts is a real threat to trespassers, who are not alert of where digs are, especially at night.
Secure belongings
When not in use or immobilized, lock vehicles and plant equipment within a secure site warehouse and concealed them if possible. Keep them safe from trespassers vandalizing, molesting, or thieving things from essential equipment.
Concealed off the sight
keeping things out of sight, materials, power tools, and tools should also be warehoused securely. Anything that could be alluring to thieves should be off sight from the construction site premises.
Secure hazardous substances
Safe and secure the construction site from hazardous substances within protected storage units considered for that purpose.
Heap securely
Construction site Security Company Edmonton ensure building materials are securely piled and warehoused so that they can't collapse over. Or be effortlessly knocked over.
Lookout the weather
Weather is a serious consideration including the wind and other weather conditions and makes sure your construction site stays secure and safe when owners, engineers, and managers are away. If a storm smashes, all things are safe & secure.
Maintain
Regularly check the premises sign or fencing to confirm it is intact and protected. Don't let things glide as the project develops, preserve your security events from start to finish.
All the above-listed ideas can help you improve the construction site security for your commercial & residential settings. Central Protection Services is a Canadian-based company offering security services for construction sites, fire watch, retail, healthcare, and other purposes. Our branches are operational in Edmonton, Alberta Wide, Fort Mcmurray, Airdrie, and other small & big allied regions. Our armed and unarmed construction site security guards safeguard the premises in an efficient way. Get the quote with us for your specified needs.