Have you ever observed or understood what's the purpose of day & night and how drastically things are affected in terms of security, health, and other life events? The night no doubt changes the total regime of daytime activities and people tend to rest for gaining energy and freshen for the next day. This circle of life is going on and will be the same forever. However, some things need to be looked at more carefully when everybody is resting. Construction sites are among the most vulnerable place for the unwanted activities of vandals, thieves, and trespassers. These consist of the valuable equipment that needs to be protected. Night security services are usually employed to safeguard construction sites at night.
It is important to protect the construction site appropriately to ensure equipment and the project remain unharmed from unusual activities. Night patrol security services are excellent to supervise the whole construction premises for effective surveillance.
Why Night Security Services Are Important?
Night security is vital at construction sites, particularly at night. The property, expensive supplies, and tools must be safeguarded to deal with unique challenges with the help of a night guard security company. A night security company will take into account the construction site's design for laying out the appropriate plan for protecting your premises. If there would be any open layout that will make it easier for criminals to snitch into the property and take away supplies and equipment. All this needs a night security guard that can supervise the open areas in an efficient way.
Effective Measures To Deal With Night Vulnerabilities At Construction Sites
At construction sites, there is almost no human presence during off hours. This makes them scary and dangerous places for illegal activities, theft, vandalism, and other terror-related activities. Also, can damage the property's reputation, if the activities are not controlled or abandoned. Construction projects hire a night security guard company to control the challenges associated with Construction Site Night Security.
Fence Arrangements Around The Construction Site
There are a lot of open building materials and equipment at the construction site that cannot be locked. The best solution the night security company offers you is to install a fence around the premises wholly or particularly around the place with valuables. Every construction site is altered, so the security plan needs to be customized for each project. Fencing might be impossible around the whole premises as it will require a big budget. Moreover, intruders can cut or climb the fence, and barbed wires are employed to make it harder for people to get into the construction site. Access control with a single-entry point could also help in lowering trespassing issues. Maintain the repute of your construction areas with the best night patrol security services. A night security guard company with also supervise the construction site including deliveries and pick-ups during off-hours.
Proper Lighting for Effective Visibility
Even though you have hired night security services but the construction site doesn't have proper lighting makes it easy to move around. Dimly lit construction sites incline to invite criminals. Night patrol security services need lighting and a more visible view of the construction site to pick out criminals. Lighting is the cheapest and most effective option to safeguard the construction site premises. Thieves and other criminals avoid places with lighting that can expose them during the night as well. Lights act as a warning even with a single guard on duty. Moreover, lighting makes it challenging for burglars to hide.
The right kind of lighting matters to stop vandalism or stealing. A right night security company will brief you on the lighting with the right brightness. Color and shade can impact its effectiveness, however, experts give you the right option according to your premises, environment, and budget. Night security services experts will deeply evaluate your construction site and make perfect lighting arrangements. It will also aid you to evade budget overlap on lights.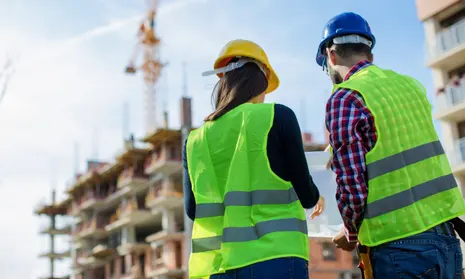 Expensive Tools and Materials Warehousing Locking
There should be a proper locking system and a warehouse kind of room to put in all the valuable tools, building materials, copper wires, and much more. However, placing all the equipment might not be possible as some are large enough not to move. But organized crime gangs will snip heavy equipment too. They are trained enough to bring a trailer and load it up. For this add a GPS tracker that will make it easy to track your valuables.
Erect Warning Signs
The board and signs placed at the visible locations alter the criminal's intention to jump into the premises. A night security company helps in identifying the appropriate and more visible places to erect the warning signs. This will particularly advertise that security is present and is a useful deterrent outside of hours. CCTV footage surveillance, mobile patrols, and electric wiring are a few warning signs that can appear as high security. Signs must be prepared visible at all times and particularly at night time. Moreover, reflective materials or security lighting are used for these purposes. can facilitate this.
Engrave Distinguishable Information on Equipment
The night security company also plays smart to deal with the shrewd and cunning behavior of criminals, muggers, burglars, and adductors. Engrave or imprint identifiable information on expensive assets at the construction site. This might be daunting for contractors to do an inventory of assets. A smart night Security Guard Company Edmonton will start with small but business-critical and costly assets. They recommend adding hidden GPS trackers and an asset management system. GPS trackers can aid where the assets are located. If the equipment breaks, the asset management tracking system alters and asks for a replacement.
However, GPS trackers are not impeccable. Systematized crime gangs and veteran thieves may practice GPS jammers to avert the GPS from working. An asset management tracking method can do additional than offer you facts about your assets even after a theft.
Asset Management System
Just like most construction projects dealing with a lack of skilled workers. There is a need to spend more on the management system to compensate for the manual tasks. A right night security company like central protection services will offer you a systematic plan that the construction managers can apply to get easy searching for equipment, inventory, and other important assets.
Moreover, assets need to be repaired and maintained like private vehicles. An asset tracking system will streamline and mechanize the procedure of knowing what requires repairing or examining. Upholding equipment well-maintained will lessen the chances of hefty equipment. Moreover, you avoid dropping hours of productivity in tracing and bringing a replacement. There might be a replacement but it will take intervals to transport to the construction site ending up postponing the entire construction project. This could be a costly decision and give jerks to the contractors. A proper asset management system can avert this from happening.
An asset management system will help ensure that the field has the accurate asset at the exact time. As the system alerts you when the equipment requires servicing. A construction site must create the maximum of every asset and worker specifically with the staff shortage and the inflated cost of building materials. An asset management system will lessen the risk of broken equipment, lost billable time, and injuries onsite.
Remote Video Surveillance
With the best night security guard company and night patrol security services; remote video surveillance can be an effective security solution. Night construction site security workers watch their belongings in real-time. Recognizing something suspicious will activate an audio warning as well as call local authorities. This will often discourage crime before it happens. An actual construction site night Security Services Edmonton needs to be practical in order to aid deter theft. An influential, proactive security system with integrated security covers is video surveillance with remote monitoring and video security analytics. Analytics helps lessen the operator's capability. You increase the best of both worlds by joining humans with technology. This permits them to aid catch potential difficulties before something happens.
CPS offers well-trained night security guards monitoring operators who do not effort onsite. Functioning with video analytics, the workers can support spot burglars approaching the construction site. The advantage of video surveillance over traditional security systems can watch multiple areas with clear visibility of the cameras to stop criminals especially.
Central Protection Services is a Canadian-based security company offering services in Edmonton, Calgary, Alberta Wide, Airdrie, and allied regions. We offer armed and unarmed guards for residential and commercial sectors. Also, technologically advanced solutions for superior services related to your security needs.