The day and night are created for a variation in the human circle; there are many countries where nighttime is much more than the day and here ruins the routine. Night times are for resting, relaxing, and renovating your body for a fresh tomorrow. But there are certain professions and scenarios where people have to work the night shifts. The Night security services are among one them. Night Patrol Security Services guards have to sacrifice their sleep and rest hours to bring peace and harmony to the communities.
Businesses put a lot of trust in night security guards, particularly for protecting business premises, assets, and employees' data after duty hours. The night security company usually offers night patrol security services. That will cover the overall business premises to avoid any vulnerability. But the scenario changes when a night security guard is sleeping on duty or leaving their location to attend to his personal matters.
How to Apply for Night Patrol Security Services?
The night is a time of high incidence of various burglaries. The effort of night patrol security services is fixed to provide patrolling to the areas. And routes to grasp the law and seize ambiguities, making business security effective protection. Here are some rules that can be followed to apply for night patrol security services:
Sensibly adjust the day or night shift time. The night security company on the shift time to appropriately manage the night patrols. However, the night patrol time can be comparatively shortened with other security measures like CCTV monitoring. Moreover, the security guards should fully rest and have more vitality when patrolling. Furthermore, the aptness of security duty can be increased and work productivity can be improved.
For large areas like construction sites, methods such as elevating the number of patrols, and regular and irregular patrols may be employed. Conventionally, patrolling was typically limited to areas within or around the premises, which was submissive protection. For sufficient personnel to be available, the night security guard can also be deployed to patrol remote areas on his own initiative, to eliminate criminals.
Apply the patrol time attendance method. A right night security guard company offers key prevention for control areas and patrol routes. A night security guard patrol system is implemented. The time and number of patrols are indicated through management software as well as the security personnel are required to hold a patrol baton to scan location codes in specific areas.
Things to Consider for Night Patrol Security Services
At Canadian Protection Services, we comprehend how much your business's success depends on the protection of office premises and inventory from burglary and vandalism. We offer night patrol security services in Edmonton. And our night security guards have the specialized training and tools essential to provide any kind of business with protection and safety. Check the tools and qualities required for night security guarding in Edmonton.
It's always been critical to stay awake on a long night shift. The human body tends to act differently; besides patrolling there is no tough duty but night security guards try their hardest not to fall asleep. It is quite difficult to handle such feelings when eyelids start to drop and the head starts to bob back and forth. At Central Protection Services, we train the guards with common sense tips to keep ready for nighttime situations like eating right. And getting good sleep before the shift starts. If it still gets harder to be awakened; take a pinch of coffee grounds and place it between the lower gum and cheek, just like tobacco. Caffeine gets into your body system and works.
Scrutinizing doors is part of the night patrol security services, which is why it's` vital to check daily door locks. Apply push and pull the door rule. Get closer and try to place your palm to feel if there is any heat on the door handle. If the door feels hotter than usual it could be a sign of a fire outbreak. Moreover, push and pull the door while rotating the knob or the way doors can be opened to check if someone missed locking it. The push-pull method will constantly certify the door is totally secured to give you peace of mind for performing the rest of your duty.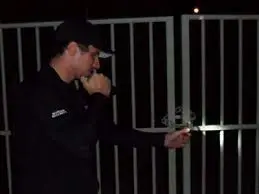 Dealing with Frozen Locks.
If you live in a very cold climate country where there is a lot of ice, snow, and bitter cold during your daily shifts. This can be really frustrating especially when your hands are numb and you have an icy door to unlock.
Best advice would be to carry a lighter and a piece of paper/newspaper. You can wrap around the lock and melt it before you unlock it. But be aware this can be only done outdoors and not indoors in other to avoid causing a fire. And also check your surroundings to avoid any flammable objects catching fire. As your job is to protect life and properties not destroy them.
To deal with any possible problems faced during the night shift is to be vigilant on duty. Don't panic every time you overhear a sound in the warehouse facility or inventory premises. But also don't overlook any potential risks or threats. The night security guard needs to be focused and must be aware of everything around them. Any unusual sounds or actions that go unattended might result in great destruction. Make sure to investigate it, sanctioning your safety together with the safety of the facility.
At Central Protection Services night, security guards performing mobile patrols use advanced automobile GPS tracking and route management software to certify to cover premises thoroughly. This permits companies to recognize weak points in security profiles and preserve a comprehensive existence around the area.
We at Central Protection services make guards do complete extensive de-escalation training, conditions may sometimes occur that need the use of protective weapons. Every incident is different, and night Security Guards Edmonton is prepared properly. Protective items such as a taser, pepper spray, or a baton are the stuff a guard may carry, pertaining to the job assignment.
Because certain locations need the presence of an armed guard to safeguard them. We offer both armed and unarmed night patrol security services. They carry firearms during their patrols. Night patrol officers in Edmonton are broadly trained in the useful and legal use of firearms available to offer intensified security services for entities. Or businesses that expect more significant dangers to their property. If you are hesitant about whether your location would benefit from an armed guard. Our squad is happy to help you evaluate your needs.
An identifiable Patrol Uniform
Nighttime requires the guard uniforms to be distinct, and that doesn't mean making a fashion testimonial. Night security service is about catching would-be interlopers in the act by deterring them entirely. Some security employments may call for a more delicate approach when it comes to night security.  It is clear that night patrol security services want criminals to avoid areas by appearing visibly. A night security guard in a high-visibility uniform creates it readily apparent that the property is being monitored. Central Protection Services offer easy-to-spot uniforms that also help police. And other spectators distinguish between individuals who are supposed to be on-site and intruders who may be up to the suspicious activity.
The night security guard's job is to patrol premises that remain lit overnight. A bright flashlight is still vital for night patrol officers. Night security services need to be ready for every situation. Whether it needs investigating an unlit location of a building or property. Directing a search operation for a dubious victim, or keeping property security during a power outage.
Dependable Communications Devices
To be optimally operative, security patrol guards need to remain in contact with the IT team so that all areas of the possessions are routinely covered with the least overlap and nothing is misused. Keeping multiple Security Services Edmonton linked and coordinated in the event somewhat happens can be consummate with a progressive communications system.
From advanced walkie-talkies that allow night guards to communicate effortlessly. And clearly, with the team in incident-reporting software that permits seamless information-sharing, our night patrol security officers are well-equipped to guard your assets. Furthermore, all of our officers have cell phones to contact emergency services.
Our experienced, trained, and well-equipped night patrol guards protect your property with focus and energy on operating your business. Benefit your business with CPS services and your ideal security solution.